Aoso-ori Fabric (Nan'yo City)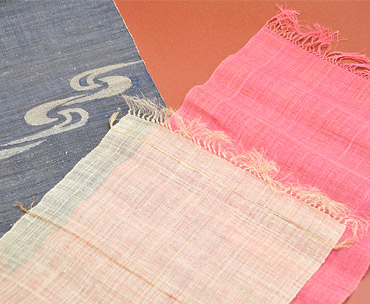 History/Outline
Aoso, a fabric similar to linen and made from the bark of the stalks of the Ramie plant, was transported throughout Japan during the Edo period (1603-1868) as a material for high-quality textiles.
Yamagata is divided into four regions based upon shared climates and cultures; Aoso was produced in the southernmost area, Okitama, which includes Nan'yo, a city of about 34,000 people.
Aoso was also called Kara-mushi and has long been used in fabrics, as the silvery white fiber taken from the plant's stalk is both strong and beautiful. Aoso production began in earnest during the reign of the feudal lord Uesugi, and was mainly overseen by the family's retainer Naoe Kanetsugu. The production began after the Uesugi Clan was forced to move from Echigo (present Niigata Prefecture) to Yonezawa (a city of 90,000 located in the southern area of the prefecture) by the Tokugawa Shogunate Government which governed the entire country during the Edo period.
Aoso was transported to many parts of the country as a material for top-class textiles such as Echigo-chijimi (highly praised as a summer cloth and produced in Niigata Prefcture) and Nara-sarashi (high-grade linen fabric used mainly for Samurai's formal dress).
Locals were producing Aoso during the era of the 9th Uesugi lord, Uesugi Yozan, but later they converted to silk weaving. In recent times Aoso as a fabric, and the importance it once held to the region, has been slowly forgotten.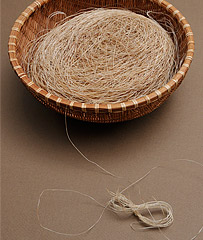 Techniques/Characteristics
The Aoso fabric, once almost extinct, was again revived as a historical weaving technique with a cool and wild touch by a dyeing and weaving master in Nan'yo City.
It was Ms.Kawai Hisako who gave Aoso a new life in Nan'yo City. One day she happened upon some old Aoso fabric and was immediately charmed, and began looking locally for naturally grown Aoso. She also started to study Aoso-making techniques herself and, after much trial and error, she succeeded in reproducing Aoso fabric in 1988.
Aoso was popular as it is excellent at absorbing and wicking away sweat, along with its graceful cool feeling. Ms. Kawai formed an association with Aoso growers in 2002 to preserve the historical fabric traditions of Aoso and is trying hard to make even more attractive fabrics.
Main Products
●Kimono/ Obi sash   ●Clothes    ●Small items