Carpet(Yamanobe Town)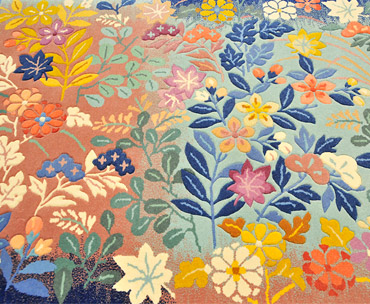 History/Outline
These carpets, woven in Yamanobe Town using unparalleled techniques not seen anywhere in the world, are sold worldwide.
Yamanobe Town is located in the center of Yamagata Prefecture and has a population of about 15,000 people. The high acidity of the river running through the town makes the area unsuitable for agriculture, so instead a strong weaving industry developed during the Edo period (1603-1868).
Based on these industrial knowledge and skills, carpet production began in 1935 when 7 carpet weaving artisans were invited from China. Soon afterwards the establishment of a new company, Oriental Carpet Co., Ltd. along with various subcontracting companies, made Yamanobe Town a big production area.
At first the carpets were exported mainly to the U.S. A., but their products were soon also sold elsewhere such as to the Vatican Palace in Europe. Since then their market has shifted domestically, though they are still famous for their high quality among many public organizations, and their products can be found in the Imperial Family Mansion and the Prime Minister's Official Residence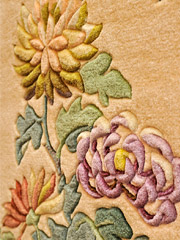 Techniques/Characteristics
As these carpets are created entirely on site, from the weaving of the thread through the production of the finished goods, the products can be made at an extremely high level of quality.

Among the manufacturing processes, one especially of note is the process of creating a glossy carpet, called mercerizing. It involves polishing carpets with chemicals and machines, making it silky smooth to the touch.
The threads must be expertly dyed in order to hold up under the stresses of these techniques, and thus the company is the only one in Japan that has this special skill.
The company can also accomodate order-made products.
Main Products
●Hand-woven carpets   ●Carpets woven by hand using special knitting tools   ●Tapestries   ●Shokuga carpets upon which a painting or picture has been reproduced