Yonezawa-yaki Pottery Narushima-gama Kiln(Yonezawa City)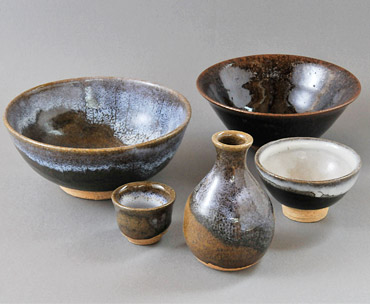 History/Outline
This kiln was opened by Lord Uesugi Yozan (a lord of the Yonezawa Clan) in order to revitalize the clan's ailing finances.
This type of Yonezawa-yaki pottery dates back to Narushima-yaki pottery ware which was created by the 9th Uesugi lord, Uesugi Yozan, who ordered its construction to help rebuild his clan's troubled finances. They learned the techniques of Soma-yaki pottery, and soon afterwards the clan's samurai Tateiwa Zengoro, the leader of the project, and Sagara Seizaemon, who later pioneered the construction of Sagara dolls, opened the clan's kiln at the Narushima district in Yonezawa in 1781. Since 1975 Mr.Tetsu Mizuno has been recreating this old style of pottery as Yonezawa-yaki pottery ware.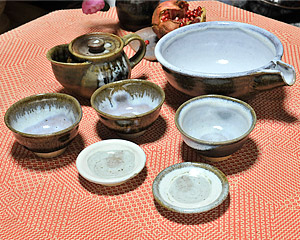 Techniques/Characteristics
Various wares for daily use with a deep-amber color, reminding us of the Yonezawa Clan's motto: simple and strong.
They feature a weighty and profound appearance created by firing black, white and blue-colored glazed wares. Mr.Mizuno formerly learned pottery making at Hagi and Karatsu, which are known as excellent pottery production areas, however since beginning recreating Narushima-yaki pottery, he has used only Narushima clay and other local materials. Mr.Mizuno is also working on a plan to revitalize the Nobori-gama (a stepped kiln), which has been left unused at the site since the reign of Uesugi Yozan.
Main Products
●Plates   ●Bowls   ●Sake Bottles   ●Water Jars   ●Oil Pots