Isokusa-nuri Lacquering (Sakata City)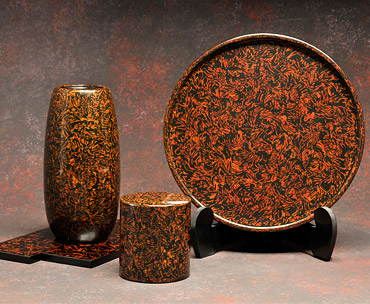 History/Outline
The technique of Isokusa-nuri lacquering has been transmitted from Niigata, Atsumi, Tsuruoka and Sakata
Isokusa-nuri lacquering was devised in Niigata Prefecture and was transferred to Yamagata Prefecture by the Yokohori Family of Atsumi to the Tosauchi Family of Tsuruoka. Although it was first made in 1951, in Tsuruoka, Take-nuri lacquering was more popular than Isokusa-nuri, which did not easily take root in that area. This technique is currently utilized by the 4th generation proprietor Mr.Yasohachi Tosauchi.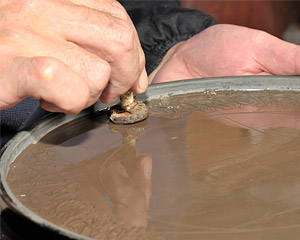 Techniques/Characteristics
The Isokusa pattern is completed only after 3 to 4 months of excruciatingly exacting work.
The basic technique of Shita-ji-nuri coating starts with Nuno-kise to reinforce the brim; Jinoko-nuri is made by blending baked Wajima stone powder and raw lacquer, and finished with Sabi-tsuke made by a mix of polishing powder and lacquer. Further colored lacquer of red, yellow, green and yellow containing black is added, and finally elaborate patterns are created after drying and careful polishing.
Main Products
●Teacup Holders    ●Tea Boxes   ●Long Trays   ●Chopsticks