Mamurogawa Shikki Lacquerware (Mamurogawa Town)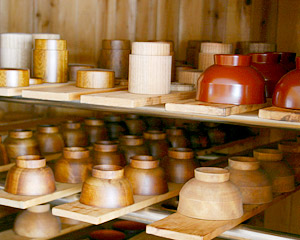 History/Outline
Mamurogawa Town aimed to advance its industry by concentrating on lacquerware.
Mamurogawa Town has a region called Urushi-bo (literally "lacquer monastery"). It is thought that in ancient times there had been a history of lacquer tree cultivation. Keeping this in mind, the town started to develop lacquerware industries in 1981. In 1990, the town opened the Mamurogawa Town Urushi (lacquer) Center, where a variety of processes are carried out, from the planting of trees through to direct sales of lacquerwares. They are presently putting more emphasis on developing new types of lacquerware together with educating the next generation artisans.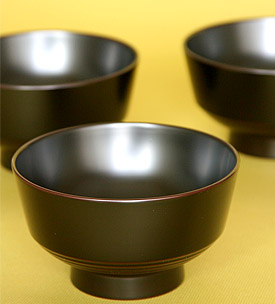 Techniques/Characteristics
Lacquerware production supported the region's culinary culture. An Eppe-wan is a bowl in which hot soup with many cooked ingredients are served. Eppe is a word in the local dialect meaning "eat much".
Mamurogawa Urushi Center produces lacquerware used in daily life such as bowls and chopsticks which pass down local food culture. As for a new approach, Eppe-wan was created by local housewives and students of the Tohoku University of Art and Design. In 2009, it was awarded the encouragement prize by Yamagata Excellent Design, a project to highlight excellently designed products in Yamagata Prefecture.
Main Products
●Small bowls for children   ●Tea Caddies   ●Round Trays   ●Lacquered Chopsticks