Tsuru-zaiku (vine crafts) (Oguni Town)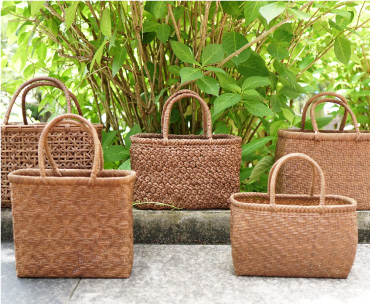 History/Outline
This is a necessary item for daily life in Oguni Town, nicknamed the "White Forest".
Oguni Town is nestled in both the Asahi and Iide mountain ranges; it is virtually a town of forests, as they occupy 90% of Oguni's land. The townspeople co-exist with their natural environment, and vine crafts made from wild Akebi vines as well as wild grape bark has been passed down as an essential winter job. Local people have recently been putting more emphasis on improving crafting techniques as well as transmitting them to future generations by uniting youth with the people who make these representative art crafts.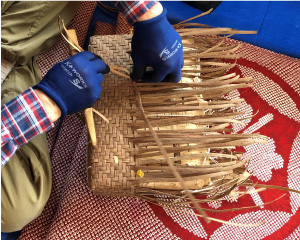 Techniques/Characteristics
Vine working classes, which have taken place since 1983, are a traditional event in Oguni, and are attended by both townspeople as well as many visitors.
Materials taken from nearby mountains including Akebi vines, silvervine, and the bark of grape and walnut trees are dried and soaked in water, then knit together. In town the tourism promotion association and vine works group host a three-day two-night vine working class every January. Attendees study not only vine working but also deepen the exchange with townspeople through their shared life in Oguni.
Main Products
●Products made from walnut bark   ●Products made from wild grape bark   ●Products made from Silvervine   ●Products made from Akebi vine