Yamagata Nokogiri (Saws) (Yamagata City)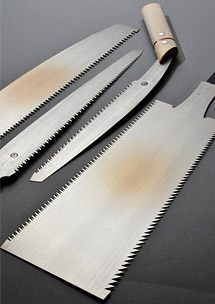 History/Outline
Saw making techniques were developed in the Kaji-machi blacksmithing district in the Yamagata castle town during the feudal period, receiving high praise among artisans using saws.
Saw making dates back to the reign of Lord Shiba Kaneyori, the founder of the Mogami Clan, during the Namboku-cho period (late 14th century), and was developed along with cutlery by blacksmiths. During the Edo period (1603-1868) it flourished at Kaji-machi along with cutlery making, attracting much attention due to the sharpness and usefulness of the saws. During its golden era there were 16 shops producing saws; now only 1 remain.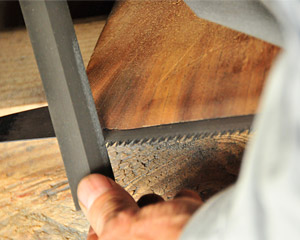 Techniques/Characteristics
These saws are handmade, ensuring their excellent sharpness and durability.
All of the production processes are done by hand, based on the techniques of forging and casting iron and steel. The two decisive factors of saw making are: Hizumi-tori (getting rid of irregularities) and Me-tate (making teeth). Finished products are said to be of superb quality, very sharp and durable, and artisans continue to service their wares through skilled maintenance.
Main Products
●Sen-tei Nokogiri (saws for pruning)   ●Yama-nokogiri (saws for cutting big trees in the mountains)   ●Daiku-nokogiri (saws used by carpenters when building wooden houses)