Yamagata Butsudan (Buddhist Altars) (Yamagata City)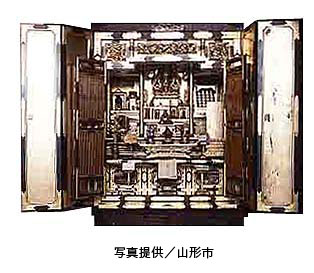 History/Outline
During the mid-Edo period (1700's) the Hoshino Family brought their Butsudan-making techniques to Yamagata
Hoshino Kichibei learned about Buddhist altar making in Shinjuku in Edo (present-day Tokyo) and brought the techniques back with him to Yamagata. Yamagata had always produced good quality lacquers and timber in great volume and, with its protective environment for artisans and existing crafting techniques and sophisticated culture transmitted from Kyoto and Osaka through trade along the Mogami River, these factors aided the swift development of Buddhist Altar production. After the Meiji period (1868~) production was condensed into 7 stages, and Yamagata Buddhist Altars have continued to be made in this way through to today.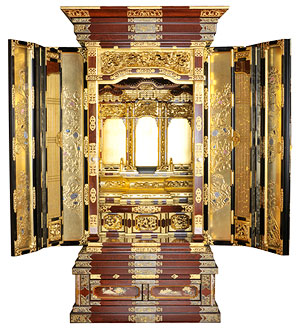 Techniques/Characteristics
Golden Buddhist Altars have been a backbone to the Japanese spiritual tradition since old times.
Yamagata Butsudan is produced in 7 stages: Kiji (wooden base) Ku-den (sanctuary), Chokoku (carving), Kanagu (metal working), Nuri (lacquering), Haku-oshi (gilding), and Shikumi (assembly). Yamagata Buddhist Altars are made using a 250-year-old technique called Hozo-kumi, which is used to join wood without using nails. In addition, elaborate Ku-den (sanctuary roofs), inside carvings, and lacquered golden altars were designated as National Traditional Art Crafts in 1980.
Main Products
●Golden Buddhist Altars   ●Kagu-cho (furniture-like) Buddhist Altars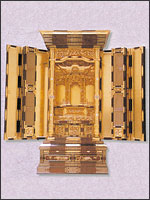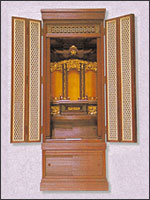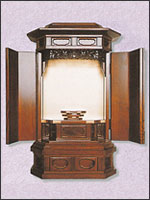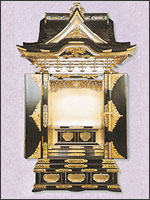 Photos provided by Yamagata Buddhist Altar Commerce and Industry Cooperative Association