Yamagata Kokeshi (Wooden Dolls) (Yamagata City)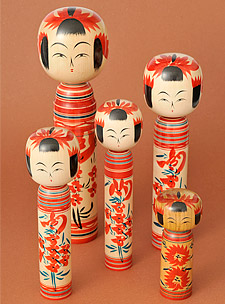 History/Outline
Souvenirs made by Kiji-shi (wood carving artisans) originating mainly at hot spring resorts in Japan's northeastern region of Tohoku.
Kokeshi dolls, local toys from the mountainous areas of the Tohoku region, were created as souvenirs during the late Edo period (mid-18th century) when the practice of Toji, an extended stay at a hot spring for rehabilitation, became popular. In Yamagata City there are two styles of Kokeshi dolls, the Yamagata Sakunami and the Zao Takayu, both of which were created by the artisan Mr. Souji Kobayashi.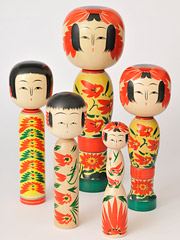 Techniques/Characteristics
Traditional patterns and the artisan's character can be seen in these simple and cute dolls
Yamagata Sakunami Kokeshi dolls feature slender bodies easily held by children, while Zao Takayu Kokeshi dolls have short and fat bodies with big heads. The bodies of both styles are painted with designs of plants such as chrysanthemum flowers and safflowers.
Main Products
●Kokeshi Dolls   ●Wooden Toys