Kikumaro Kokeshi (Wooden Dolls) (Nishikawa Town)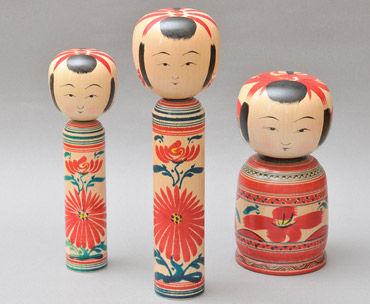 History/Outline
Flowery-faced kokeshi dolls are created by local woodworkers with affection for their mountainous home.
In 1899 Gorohachi Shida, the leader of the village of Oisawa, invited artisans from Akita Prefecture to help improve the local economy, leading to the development of a local woodworking industry. Kikumaro Shida worked as an apprentice under Gorohachi from the age of 18 and, at the age of 72, is known for devoting his life to Kokeshi. Kikumaro restored locally-produced antique kokeshi dolls in the early 20th century, and has continued producing these local crafts ever since.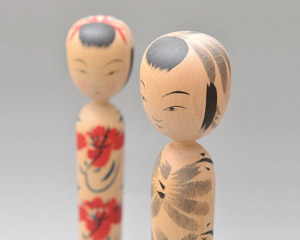 Techniques/Characteristics
Kikumaro has created his own special style of Yamagata Kokeshi, incorporating the essence of the Zao and Naruko Kokeshi styles.
The 2nd generation proprietor Kikuhiro, Kikumaro's grandson, opened his own studio after studying with Yuichi Takasaki in Yonezawa City. There are two main types of Kikumaro Kokeshi: the Taisho-kata features a slender torso with double eyelids, and the Kikumaro-kata is characterized by a thick torso featuring a chrysanthemum pattern. Both dolls have sizable skulls and rounded shoulders.
Main Products
●Kokeshi Dolls   ●Wooden Products