Ginzan Kokeshi (Wooden Dolls) (Obanazawa City)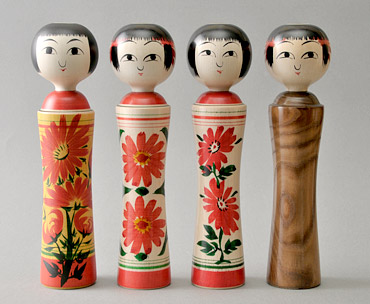 History/Outline
Ginzan Kokeshi dolls, with their big eyes and short hair, are very popular with hot springs tourists from overseas.
The history of Ginzan Hot Springs dates back to around the mid-Edo period (18th century). Ginzan Kokeshi, whose name is derived from Ginzan Hot Springs, were first made in 1915 by artisans using techniques learned from Naruko Kokeshi artisans in Miyagi. These dolls feature two main characteristics: a uniquely shaped head with big eyes and a bob-cut hairstyle. Currently the only manufacturer continuing to make these dolls is the Izu Family, now in its 3rd generation, thus the dolls are also called Izu Kokeshi.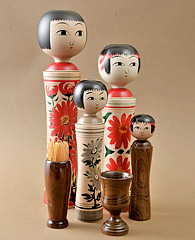 Techniques/Characteristics
These originality of these kokeshi comes from both tradition and parents' wishes for the healthy growth of their children.
Izu Kokeshi dolls are well-known as Tanjo Kokeshi (birth dolls), made at birth to have the same weight and height as the baby, or Oshin Kokeshi, a type of kokeshi which appeared in the television drama "Oshin". White-colored maple wood is an ideal material for making Tanjo Kokeshi, as is wood from the Japanese pagoda tree, whose luster increases as it is used. In addition, the Ginzan Onsen Kogeikan offers a hands-on experience of painting Kokeshi.
Main Products
●Kokeshi dolls   ●Uchideno-kozuchi (a good-luck mallet)   ●Chazutsu (wooden tea caddy)   ●Ichirin-zashi (a vase for buds)