Hijiori Kokeshi (Wooden Dolls) (Okura Village)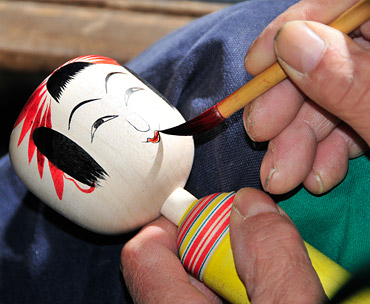 History/Outline
The 100-year-old design of this kokeshi tells of the history of this hot springs village, where many craftsmen gathered and exchanged ideas.
The first generation master Denzo Kakizaki learned woodworking at Naruko, and his apprentice Togoro Inoue studied at Tokatta. These two kokeshi styles were incorporated to form the Hijiori Kokeshi doll. A yellow base is coated over a thick torso and patterned with either chrysanthemums or fringed pink, with striped shoulders and a hair accessory made of fabric on top of the head.
Mr. Seiichi Suzuki is currently the only artisan in the region who has continued the tradition of this doll design. Hijiori Kokeshi dolls carry on the beauty of simple 100 year-old designs.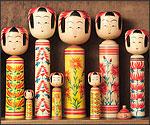 Techniques/Characteristics
The individualized facial expressions reflect excellent technique, giving them a presence that has attracted many fans.
Arched eyebrows and marked lips make up the unique style of Hijiori Kokeshi. Originally they were made as toys for children, so they can also make sound. At present day the model remains almost unchanged from the pre-war period (1930s), making it appealing to many collectors.
Main Products
●Kokeshi Dolls