Onmyoji-dako (Kite) (Shinjo City)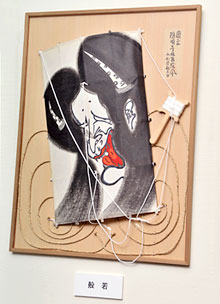 History/Outline
This traditional type of kite originated with members of the Onmyoji family, a samurai family of the Shinjo clan. The Yamagata Prefectural Government has designated the printing blocks as a tangible folk cultural property.
In the early Meiji period (late 19th century) Yuzo Onmyoji, a former Shinjo clansman, began to make kites modeled after an Edo-dako, a kite given to him by his father. Although his son Jotaro continued Yuzo's kite making tradition, kite production had to stop in the late Meiji period (early 20th century) because increasing numbers of electric cables hampered kite flying.
Jotaro's third son Norio happened to discover Yuzo's original printing block, and organized the "Onmyoji Kite Preservation Group". Yuzo's 12 original blocks are designated as a Tangible Prefectural Folk Cultural Property.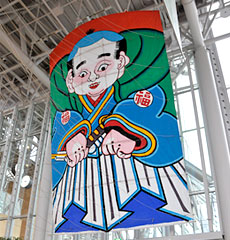 Techniques/Characteristics
The most popular kite pattern is that of a Hannya, a female demon, which was taken from a local legend in the Shinjo area.
There are more than 30 patterns including Ushiwaka-maru and Momo-taro, mostly from fairy tales. Especially noteworthy is that of the dynamic Hannya pattern.
Onmyoji kites use local Nagasawa Japanese paper together with a special framework called Shoji-hari, which make the kites very strong. To commemorate the 60th anniversary of Shinjo City, the local people made a giant kite in 2009 measuring 5.4 meters by 3.2 meters and organized a kite-flying contest, thus contributing to the transmission of local kite making-culture to the next generation.
Main Products
●3 size of kites: 46 x 30 cm, 40 x 27 cm, and 33 x 25 cm, with more than 30 patterns