E-rosoku (Picture Candles) (Tsuruoka City, Sakata City)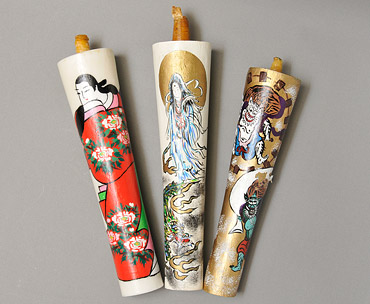 History/Outline
A Tokugawa Shogun once praised Shonai's hand-painted picture candles as the best in Japan
Tsuruoka's picture candle making was started during the Kyoho era (1716-1735) by Minagawa Jubei. When the Shonai Clan Lord Sakai brought candles to the Tokugawa Shogun who ruled Japan during the Edo period (1603-1868), some candles were broken on the journey to the capital. However, no artisans could be found that could fix them, and Jubei himself came to Edo to repair them instead. When he saw them, the 11th Tokugawa Shogun, Ienari, declared them the best in Japan.
After their glowing review from the Shogun there grew to be more than 10 candle shops during Japan's golden age. However, after the Taisho period (since 1912) with the advent of mass production systems, many candle artisans had to retire; now only a few shops produce hand-painted candles in the Shonai region.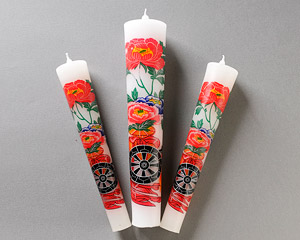 Techniques/Characteristics
Picture candles are called Kamon-shoku (flower-patterned candles), featuring seasonal flower patterns such as Gosho-guruma(court cow carriage with flowers) and Renge (lotus flowers).
In Sakata City, Hajime Hirano inherits the candle making and painting techniques started at his family shop, Hirano-ya Rosoku, in 1696.The owner of Tsuruoka City's Togashi Candle Shop, 2nd generation proprietor Yujii Togashi, was honored as a national excellent skilled artisan in 1996 for his mastery of candle painting.
Now the shop's workers continue on his painting techniques. As time goes on, the purpose of the candles has changed from that of rituals to souvenirs. Flower bowls created by Hirano have recently become popular, as they have a pretty round shape with beautiful patterns and float on water.
Main Products
●E-rosoku (Picture Candles)   ●Flower Bowls (Round-shaped Candles with Patterns)   ●Tegaki Rosoku (Hand-written Patterned Candles)