Matsugaoka Glass Products (Tsuruoka City)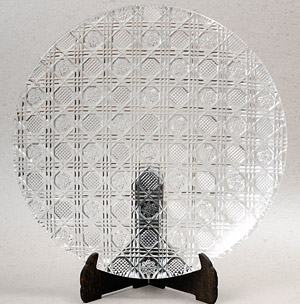 History/Outline
After converting its business from the aviation industry into glass production, Matsugaoka Glass became famous for its production of crystal glass.
Matsugaoka Kogyo Inc. was created to manufacture airplane parts in 1944 as part of the Sakai Family business. After the war the company was urged to remake its business, and it began producing glass tools and sake containers as Matsugaoka Kogyo Inc. Later it succeeded in manufacturing crystal glass products. Fine cutting techniques by hand were also introduced, earning Matsugaoka Glass a high reputation as an exclusive manufacturer of high grade glass tableware.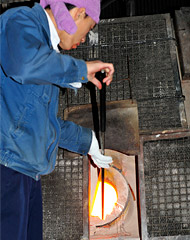 Techniques/Characteristics
Products have long been made by repeatedly improving products through trials and enhanced techniques.
Crystal glass is often called the "Queen of Glass". Matsugaoka Glass techniques feature fire polishing, in which glass is burnished through a baking process. This process is labor-intensive in that it is done completely by hand, including putting a ponte (iron stick) at the bottom of the glass and rotating it in the midst of a blazing fire. A variety of crystal glass products are produced using long-developed techniques, including tableware, ashtrays, flower vases, and paperweights.
Main Products
●Wine Glasses   ●Small Plates   ●Set of Cups for Cold Japanese Sake   ●Soy Sauce Container