Knitting (Yamanobe Town)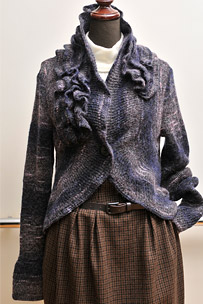 History/Outline
The knitting industry in Yamanobe Town (located in the center of the prefecture with a population of 15,000) originated during Japan's remarkable economic recovery following World War Two. It developed rapidly due to the advancement in society of women and the technological innovation of knitting machines.
Yamagata Prefecture's knitting industry is famous across Japan and has been pioneered the development of a total production system, from materials through pattern design, putting emphasis on producing small and short cycles of varied products, usually high-quality women's clothes, especially using the Yamagata knitting methods.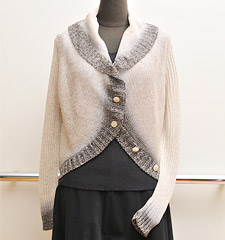 Techniques/Characteristics
Yamanobe leads the field of Yamagata's knitting industries in developing original products using advanced technology.
Yamanobe accounts for almost 40 percent of the entire prefecture's production of knit goods. Yamanobe's textile industry has been prosperous since the Edo period (1603-1868), and is also the origin of summer knit-wear. Presently they are leading the knitting industry with unique concepts and ideas, such as using knit clothing fabric in interior decoration and upgrading their knitting systems with more up-to-date knitting machines befitting of an industrialized nation.
Main Products
●Sweaters   ●Cardigans   ●Jackets   ●Stoles