Yuza Sashiko Quilting (Yuza Town)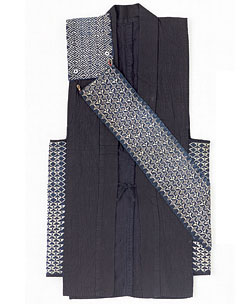 History/Outline
Shonai Sashiko is recognized as one of Japan's three main types of Sashiko, and among the different types of Shonai Sashiko, Yuza Sashiko is unique in its use of multiple colors. (Yuza Town is located in the far northwest area of the prefecture with a population of 16,000)
Together with Tsugaru Kogin-sashi (traditional quilting from the Tsugaru region in Aomori Prefecture) and Nanbu Hishi-sashi (another traditional type of quilting from the Nanbu region of Aomori Prefecture), Shonai Sashiko quilting is referred to as one of the three main types of Sashiko quilting in Japan. Sashiko passed down in Yuza Town is particularly special, featuring original beautiful and diversified patterns created by Yoko-sashi which are made by stitch by stitch without drawing the line.
These patterns were passed down during the Showa period (1926-1989) and were used in making traditional work clothes (Sorihiki Happi in Japanese) worn by men who worked to carry wood from mountains using a sledge.
Men would pray for their safety before entering the woods to do this work, and the women would pray for the safety of their households, creating these designs and drawing inspiration from their traditional mountain religions.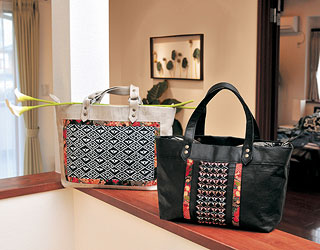 Techniques/Characteristics
Yuza Sashiko has been used throughout the country as a new approach to transmitting cultures and connecting the present and the future.
In 2006 women who wanted to learn and preserve the Yuza Sashiko methods as well as revitalize their home town created the Yuza Sashiko Preservation Research Group.
They published a book in which the history of pattern of Sorihiki Happi coats were studied and analyzed, which garnered much interest. In addition, they are actively engaged in many activities. Not only to educate about this cultural tradition, but also looking forward to its continued future, they made the LLP Yuza Sashiko Guild, opened Yuza Sashiko school to teach the techniques, developed products combining patchwork and soft leather, registered trademarks, and engaged in many different sales activities.
Main Products
●Decorative Plaques   ●Pocketbook Covers   ●Pincushions   ●Various Purses   ●Books