Gassan Agate (Nishikawa Town)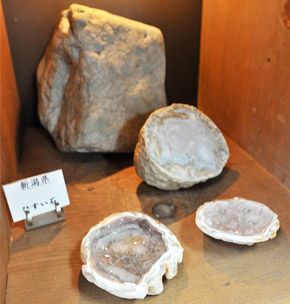 History/Outline
The Asahi Mountain Range is a treasure house of wonderful precious stones such as agate, jasper, and quartz.
Oisawa district, located in Nishikawa Town and nestled on the foot of the Asahi Mountain range covered by virgin beech forests, is known for its gemstones, including quartz and high-quality jasper. Agate was discovered and became a local product in the 1970's. The opening of the Nishikawa Nature and Folk Crafts Museum in 1989 established a hands-on experience workshop for native rock.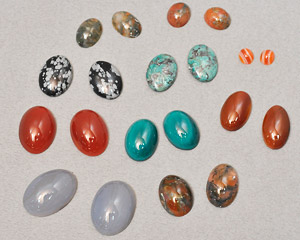 Techniques/Characteristics
This is the only workshop in Japan where visitors can try crafting with or arranging precious Japanese agate.
Though this hands-on-experience agate workshop was once closed, it was reopened by Mr.Masaru Ueno, who was from Tokyo. He visited the Oisawa district on a fishing trip, and as he learned of the area's locally mined agate, he decided to move to the area and take control of the workshop, visiting a factory in Yamanashi Prefecture in order to study agate-processing techniques.
Presently, he crafts many different accessories by hand.
Main Products
●Pendants and Earrings   ●Key Holders   ●Kanzashi (Japanese traditional ornamental hairpins for women)   ●Buddhist Prayer Beads   ●Cufflinks and Tie Accessories